Container flexible tanks
CONTAINER LININGS (FLEXIBLE TANKS) SERVE AS ALTERNATIVE DELIVERY METHOD
OF LIQUID CARGO TANKS AND BARRELS.
Flexitank is a sealed cushion-shaped elastic container made from a polymeric material. Flexitank containers are folded
into ordinary 20 ft and 40 ft ISO containers and filled with the fluid of different viscosity.
The main purpose of the application of flexible packaging - optimization of transportation of bulk cargoes significant parties «door to door», that is, from door to door with minimal effort.
Easy to use container inserts causes their almost unlimited use. In container liners can be transported and stored not only safe and dry products, but also petroleum products, acids and fertilizers.
The main advantage of the elastic linings of Neftetank Group of Companies is the possibility container reusability.
THE STRUCTURE FLEXITANK
A three-layer material is not used for our tanks, but rather our exclusive polymeric material, as is the case for conventional containers.

Suspensions perimeter

Steel stiffeners

Ball valve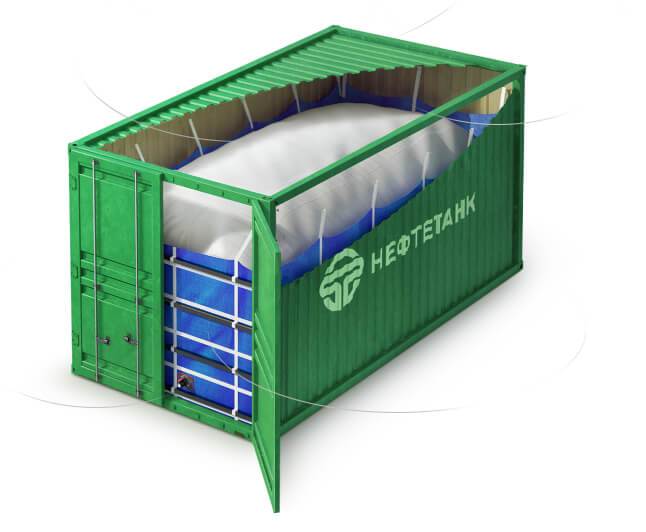 ADVANTAGES OF FLEXITANKS
Transportation of bulk cargo and container in flexitanks linings has several advantages over the already widely known methods of transportation in barrels and tanks.
Production technology and production is certified according to state requirements. Reusable Container Linings have successfully passed all test trials by the rules of transportation by road, sea and rail.
Neftetank Group of Companies develops and implements innovative technologies in the production of flexible reservoirs.
We are «Container flexible reservoirs» and «Reservoir Flexible Polymeric Linings» patent holders
PECULIARITIES AND PACKAGING ARRANGEMENT
Handling does not require special skilled personnel. Container linings fit into a standard container for transport by road,
sea or rail.
For transportation in 40-foot container strengthening the walls of the container is required. Neftetank Group of Companies
on agreement shall perform such work.
Time to prepare for loading is about 30 minutes for team of 3 persons. Time to fill the container is within 30-60 minutes depending on the capacity of the transfer pump.
For filling or draining transfer pump required. All other technical fittings are included in the elastic insert.
THE PACKAGE INCLUDES:
Container liner;
Canopy;
Bulkhead/partition;
Beams for fastening the partitions.
Additional materials can be supplied: a pump; a gauge; vent air outlet during filling; connecting hoses with quick couplings like «Cam-lock»; ball valves. The accessories are designed for standard 2 or 3 inches.
The product is completed with a set of complete carefully packaged technical documentation.
To sum up, let us cite a comparative table of the main parameters necessary for transporting flexible tanks.
Comparative table
| Characteristic | Flexitank | Container | IBC container |
| --- | --- | --- | --- |
| Number of units in the ISO standard container piece | 1 | 85 | 20 |
| Container capacity in litres | 23 000 | 207 | 1 000 |
| Useful volume in ISO container | 23 000 | 17 589 | 20 000 |
| Average filling time in minutes | 40 | 120 | 120 |
| Average preparation time in hours | 0,5 | 3 | 3 |
| Number of operators (persons) | 2 | 3 | 3 |
| Operating space | low | high | moderate |
The price of a Flexitank is determined by its type depending on transport destination, quantity and strength of protective layers, size, and does not exceed the cost of a traditional container for a corresponding volume.
START SAVING RESOURCES ON TRANSPORTATION OF BULKY/LIQUID GOODS NOW!
Call
8-800-500-54-48!
We shall help you choose the elastic container that fully meets your requirements. We shall also instruct you in detail as to how to derive maximum benefits
from the use flexitanks and other information on their use, cost and delivery date.