Container flexible tanks
CONTAINER LININGS (FLEXITANKS) SERVE AS AN ALTERNATIVE DELIVERY METHOD
FOR LIQUID CARGO TANKS AND BARRELS.
Flexitank is a sealed pillow-shaped flexible container made from a polymer-based material. Flexitank container liners are inserted into ordinary 20 ft and 40 ft ISO containers and filled with various viscosity fluids for transportation.
Prices for our Flexitanks start at 95,000 rubles depending on the volume, purpose, any additional equipment, packaging, delivery services, and the need for a representative to visit our company to learn how to operate the equipment correctly.
User-friendly container inserts have almost unlimited application use. Container liners can transport and store not only standard and dry products but also petroleum products, acids, and fertilizers.
Within the Russian market Flexitanks (Flexitank, Flexi-tank, Flexi tank, or Flexible tank) are usually imported disposable products. Disposable flexitanks are made of polyethylene or polyamide and are intended for single-use transport of water, oils, wine, and other bulk cargoes. However, we at "Neftetank" offer reusable flexitanks. Although the initial outlay for one of our Flexitanks will be slightly higher, your overall operational cost will ultimately decrease due to their reusability.
Flexitank manufactured by Neftetank
A distinctive feature of our Flexitanks is that they are made from a unique polymer material, designed for reusable use and resistant to almost any liquid.
One of the main things that set our Flexitanks apart is their ability to store oil. Conventional flexitanks do not allow for the storage, much less transporting of oil and oil-based products. However, our Flexitanks can be used as storage tanks for diesel fuel; and as the manufacturer, we can produce tanks of any volume.
Our streamlined production of Flexitanks are available for 20 'or 40' containers, and we also offer both customized and standard sized flexitanks from our warehouse. A principal advantage of a Neftetank Flexitank is its ability to be used again and again.
FLEXITANK STRUCTURE
Instead of a three-layer material used for conventional containers, our Flexitanks employ an exclusive polymeric material.

Suspensions perimeter

Steel stiffeners

Ball valve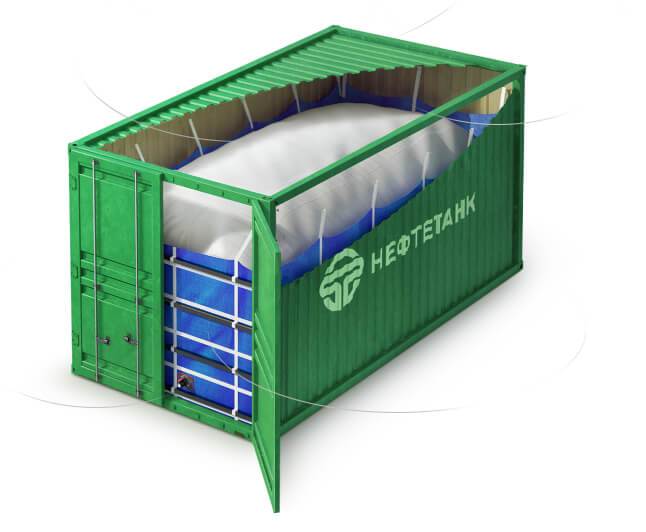 ADVANTAGES OF FLEXITANKS
Bulk cargo transportation using flexitanks and container liners offer several benefits over the already widely known methods of transportation in barrels and tanks.
Flexitanks compact transport and storage size, coupled with their enormous payload ability, and lightweight material, make the use of reusable container liners extremely profitable.
| | |
| --- | --- |
| | Neftetank and its subsidiaries are continually developing and implementing innovative technology in the production of flexible reservoirs. We are "Container Flexible Reservoir" and "Flexible Polymer Liners for Reservoirs" patent owners and holders. |
FEATURES AND EQUIPMENT
Handling does not require special qualified personnel. Container linings fit into a standard container for transport by road, sea or rail.
For transportation using a 40-foot container, strengthening the container walls is required. If agreed upon, Neftetank and its subsidiaries can carry out such work.
Before filling, preparation time takes no more than 30 minutes with a team of two to three people. Actual filling time is approximately only 30-60 minutes, depending on the capacity of the transfer pump.
For filling or discharging a pump is required; however all other required fittings and accessories are included in the Flexitank package.
PACKAGE CONTENTS:
Container liner;
Canopy;
Bulkhead/partition;
Beams for fastening the barriers.
Additional accessories can be supplied, such as a pump, a gauge, air release valve (if required for during filling), and connecting hoses with quick couplings like "Cam-lock" ball valves. Standard 2-3 inch fittings are designed and used for their operation.
All products come carefully packaged and with their respective comprehensive technical documentation.
Below is a table comparing the principle factors between the various storage methods available.
Comparative table
| | | | |
| --- | --- | --- | --- |
| Characteristic | Flexitank | Barrel | IBC container |
| Number of units per standard ISO container | 1 | 85 | 20 |
| Container capacity in litres | 23 000 | 207 | 1 000 |
| Useful volume in ISO container | 23 000 | 17 589 | 20 000 |
| Average filling time in minutes | 40 | 120 | 120 |
| Average preparation time in hours | 0,5 | 3 | 3 |
| Number of operators (persons) | 2 | 3 | 3 |
| Operational space required | low | high | moderate |
The price of a Flexitank is determined by its type, which is dependent on the product to be transported, the quantity and strength of protective layers, and overall size. However, it does not exceed the cost of a traditional storage method for a corresponding volume.
START SAVING ON THE TRANSPORTATION OF BULK/LIQUID GOODS NOW!
Call
8-800-500-54-48!
We can help you choose the Flexitank container that fully meets your needs. Additionally, we will be delighted to share how you can maximize your benefits
from using our Flexitanks and further information about their use, cost, and delivery date.