Gasholders for Storage
PROFESSIONALS OPERATING OIL DEPOTS AND REFINERIES ARE FAMILIAR WITH "BREATHING" – THE LOSS OF STORED FUEL AS IT EVAPORATES INTO THE ATMOSPHERE.
A Gasholder is a tank in which evaporated fuel vapor is collected.
Due to natural daily temperature fluctuations, and the filling and discharging of fuel tanks, product expansion or contraction will occur. Additionally, air contact can cause substantial evaporation. Tank losses from such "breathing" are quite serious and can be hundreds of kilograms a week per 1000 m³ volume.
Certain technical measures are required to reduce fuel loss and prevent air pollution from oil products. Special flexible gasholders have been developed to prevent evaporation into the atmosphere and reduce the seemingly inevitable loss incurred by "breathing."

Flexible gasholders are produced from special polymeric elastic material to enhance durability. The material is inert to the stored substance and resistant to temperature fluctuations.
Each flexible tank - gasholder is produced in the form of a closed airtight shell and designed to collect the vapor petroleum products caused by evaporation. Depending on the liquid stored, flexible gasholders can be made of various materials specifically designed for them. There are flexible gasholders for food vapors (e.g., wine), gasoline vapors, and so forth.
Otank is responsible for the production and manufacturing of our gasholders from polymer materials, while our company cares for the transportation and installation of tanks. It is possible to produce Gasholder tanks in different volumes, from 1 m3 to 1000 m3. Reservoirs of gas storage within polymeric materials are useful where there is no need to store gas under high pressure. Large tanks, such as a 500 m3 tank or a 1000 m3 tank, are laid out and connected in just a few minutes with the help of a single team.
Our gasholder products start at 15,000 rubles, depending on the size of the tank, its use, capacity, equipment required, delivery services, installation, and service package required.
USE OF FLEXIBLE GASHOLDERS
No additional construction costs required for the installation of flexible gasholders within pipelines or refineries, and they do not influence the standard operational technology already in use.
While filling a reservoir in warmer environmental conditions, subsequent vapors produced from the filling process or evaporation are pushed into the flexible gasholder.
A technical system, consisting of cumulative capacity, gas-equalization lines, and a flexible gasholder within an airtight system, prevent the release of vapor into the atmosphere. Flexible gasholders can be manufactured in a short time and delivered both separately or complete with all necessary equipment.
As fuel is discharged from the tank, the vapor mixture is returned to the reservoir from the gasholder, filling the free volume. The seemingly lost condensed fuel returns to the tank.
Thus, when filling and discharging reservoirs at low and high temperatures, any vaporized gas accumulates in the sealed gasholder, circulating within a closed system.
Our company always has standard size gas storage tanks in stock for purchase.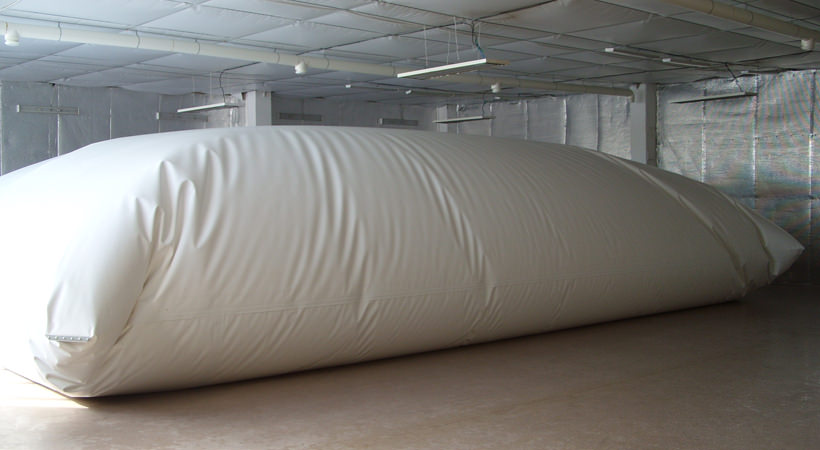 ADVANTAGES OF GASHOLDERS
The advantages of flexible gasholders over so-called "floating lid" storage systems are irrefutable.
Significant cost savings as a result of preventing evaporation losses in the form of vapor into the atmosphere.
Closed, airtight system, eliminating direct contact with the atmosphere reduces fuel loss during transport to almost zero.
Modern materials used to make flexible gasholders are resistant to corrosion, chemicals, climatic effects, and solar radiation.
With minimal cost, the issue of emissions of harmful substances into the environment is effectively and reliably solved, preventing further pollution.
The scheme described concerning the integration of flexible tanks is termed a compressor system, and it is the most efficient, simplest, non-mechanical system. Good elasticity of the tanks allows for the storage of vapors, even beyond what was planned, without damaging the tanks.
All supplied products come carefully packaged and complete with a set of technical documentation.
Materials
Our tanks are made from durable materials provided by the German company "Low and Bonar" and produced by the company "Neftetank" Ltd.
GET EXPERT ADVICE!
Call
8-800-500-54-48
, and our managers will provide you with more comprehensive information about your particular request and methods of use for our products, costs, and delivery dates!