Gasholders for storage
PROFESSIONALS OPERATING FLEXIBLE TANK AND REFINERY EQUIPMENT ARE FAMILIAR WITH THE TERM «BREATH» – FUEL EVAPORATION INTO THE ATMOSPHERE.
Gasholder (from the English word «gasholder») is a tank in which fuel vapour is collected during evaporation.
When filling the fuel tank during evacuation and also during the natural daily wind temperature fluctuations product expansion
or contraction occurs as a result of the air mixing with the intense evaporation. Losses from such «breathing» are quite serious and can reach hundreds of kilogrammes a week on 1000 m³ volume of field reserve.
To reduce the loss of fuel and prevent pollution of petroleum vapours certain technical measures must be taken. To prevent evaporation into the atmosphere and reduce the seemingly inevitable loss special soft gasholders are produced.

Soft gasholders are produced from special polymeric elastic material to enhance durability. The material is inert to the stored substances and temperature-resistant.
USE OF FLEXIBLE GASHOLDERS
Installation of soft compensating gasholders in pipelines or refineries does not require additional construction costs and does not change work technology of standard equipment.
When filling the reservoir while the container
is hot as a result of climate impacts, expanding steam mixture is forced into the elastic gasholder.
A technical system, consisting of a storage tank, lines
and soft gasholder is sealed, prevents the release of vapour into the atmosphere.
During fuel draining from the tank steam mixture is returned to the reservoir of the gasholder, to fill the void volume.
The seemingly lost condensed fuel returns to the tank.
Thus, when filling and discharging the reservoirs
at a low and high temperatures, a mixture of vaporized gas accumulates in the sealed gasholder, circulating
within a closed system.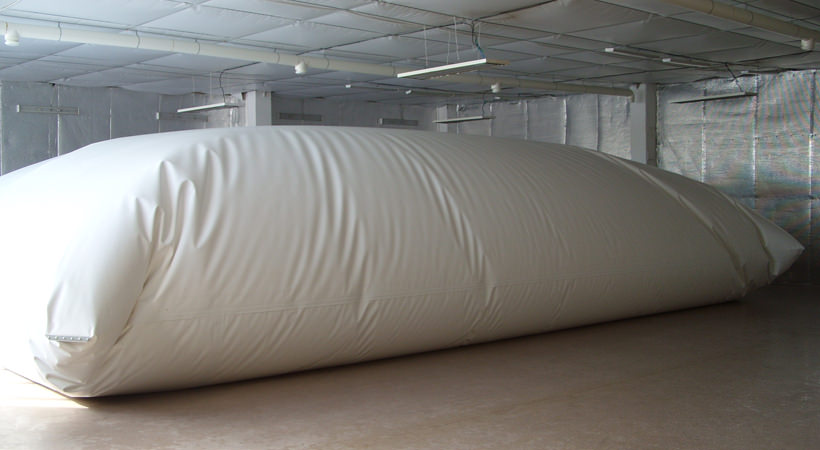 ADVANTAGES OF GASHOLDERS
Advantages of elastic gasholders before the so-called «floating cocks» are irrefutable.
Significant cost savings as a result of evaporation losses in the form of vapour-air mixture into the atmosphere.
Closed, sealed system, eliminating direct contact with the atmosphere reduces fuel loss during transport to almost zero.
Modern materials used to make the soft gasholders are resistant to corrosion, chemical and climatic impacts and solar radiation.
With minimal cost effective and reliable solution of problems of emission of harmful substances into the environment avoiding pollution.
The scheme described in the integration of flexible tanks is termed compressor system and it is the most simple
and labour-effective system. Good elasticity of the reservoir helps to accommodate steam mixture and keep more
than planned, without damaging tanks.
The product is completed with a set of complete carefully packaged technical documentation.
GET EXPERT ADVICE!
Call
8-800-500-54-48
, and our managers will feed you with comprehensive information on your request on methods of use of our products, cost and delivery date!