Tanks for fertilizer
Neftetank Group of Companies offers its customers a new product. By using a unique technology based on innovative materials flexible reservoirs are designed for transportation and long storage of liquid fertilizer.
Soft, flexible reusable containers for liquid fertilizer are produced from high-strength polymeric material resistant to corrosion, chemicals, climatic impacts and to direct sunlight.
Flexible tanks, commonly termed oil-tanks, are grouped according to their purposes as reservoirs for transportation
and storage of petroleum products, various types of fuels, lubricants, chemicals, liquid and bulk food products.
They are manufactured in different capacities and volumes from 0.25 m³ to 500 m³.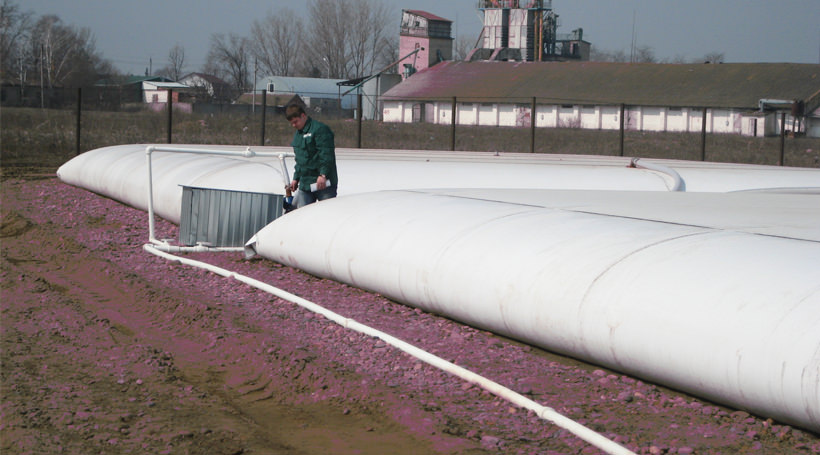 ADVANTAGES OF FLEXIBLE TANKS
The main advantage of flexible tanks, leaving no chance for the traditional steel, rail and road tanks and metal drums,
is low weight and high mobility.
The mass of the largest reservoir of 250 m³ capacity is about 500 kg, while that of a similar steel tank is 14 000 kg.
In empty state, 50 pieces of folded flexible tanks can be put in a standard-size container. Cost-effectiveness is very high during delivery to project site.
Lightweight containers require no expensive works during site preparation and construction of a warehouse in the field.
Full preparation of polymeric reservoir for receiving and dispensing of UAN-32 liquid fertilizer with a team of three people without special training takes less than one hour.
Neftetank Group of Companies offers its customers a new product. By using a unique technology based on innovative materials elastic reservoirs are designed for transportation and storage of liquid fertilizers.
TO SUM UP, LET US CITE THE MAIN BENEFITS OF FLEXIBLE TANKS
IN THE ORGANIZATION OF STORAGE FOR LIQUID FERTILIZERS:
Comparatively low price.
Unfolding the reservoir does not require expensive preparatory work, special equipment, qualified personnel
and takes
30 to 50 minutes.
Low labour costs during installation and folding.
Temporary field storage is easy to execute without special preliminary ground work.
Long lifespan and possibility of container reusability.
Easy transportation. It is possible to deliver to any place of installation and by any light vehicle.
Small size and weight and transport in packaged state, 50 m³ flexible tank weighs 140 kg.
Our engineers designed the technology and launched production of the unique product - container soft liners
20 and 40-ft containers for the transportation of fertilizers by road and rail, as well as for long-term storage in metal containers.
BUY FERTILIZER FLEXIBLE TANKS
Neftetank GC offers warehouse- ready flexible tanks of various sizes for a wide range of application. In the absence
of the required position in the shortest possible time shall execute your order and deliver the products in any quantity.
The product is completed with a set of complete carefully packaged technical documentation.
SAVE YOUR RESOURCES DURING FIELD WORK!
FLEXIBLE TANKS FOR FERTILIZER STORAGE MINIMIZES COSTS
AND SAVE RESOURCES.
Call
8-800-500-54-48
and our managers will provide all the very comprehensive information
on your enquiry for flexible tank application methods, costs and delivery dates.