Water-Fillable Barriers
Mobile Water-Fillable Barriers are temporary, reusable hydraulic structures isolating water or an area from the effects of flooding to protect residential and industrial buildings. They consist of one or more prefabricated flexible shells intended for use as water obstacles.
Prices for water-fillable barriers start at 30,000 rubles and depend on the capacity, additional equipment, delivery services, and technical support (installation supervision, staff training) required.
MR-GNI Barrier Series is a water-fillable tank produced using a flexible, polymeric material, with a length of up to 15 m. Barriers come equipped with DN40 drainage valves. On both sides, along the perimeter, are straps with eyelets for securing the barrier using ropes to resist any strong currents.
Scheme/method for calculating stability of the filled dam: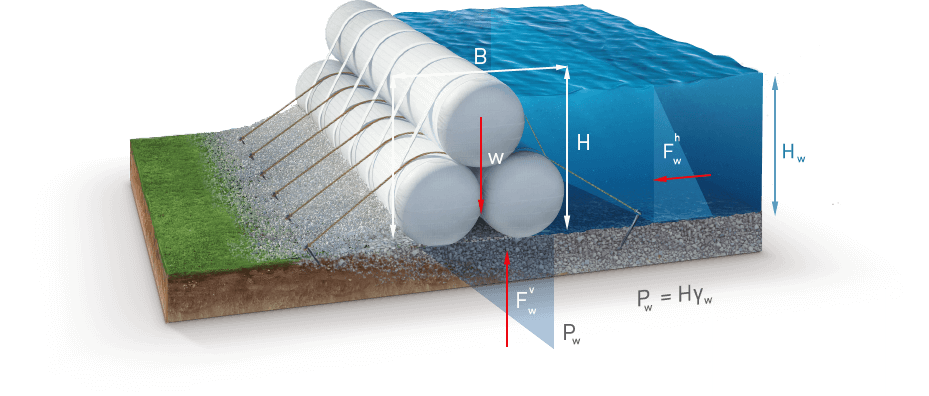 PURPOSE AND BENEFITS OF WATER-FILLABLE BARRIERS
The MR-GNI water-filled barrier series produced by "Neftetank" is convenient and easy to use. Easy to deploy in the field, they do not require any special personnel training and or special equipment for installation.
Major advantages over conventional sandbag barriers are the logistical cost savings:
Excess water in the immediate vicinity is used as the actual filler;
Empty elastic shells are lightweight, easy to fold and occupy very little space during transportation;
Minimal labor and human resources required.
Additionally, water pressure is distributed evenly over the entire surface of the water-filled barrier and provides equal force to the whole barrier upon contact with an obstacle.
Apart from emergencies, water-filled barriers can also be used to drain or divide an area already underwater. For example, to increase a coastline area or divide a space into smaller parts.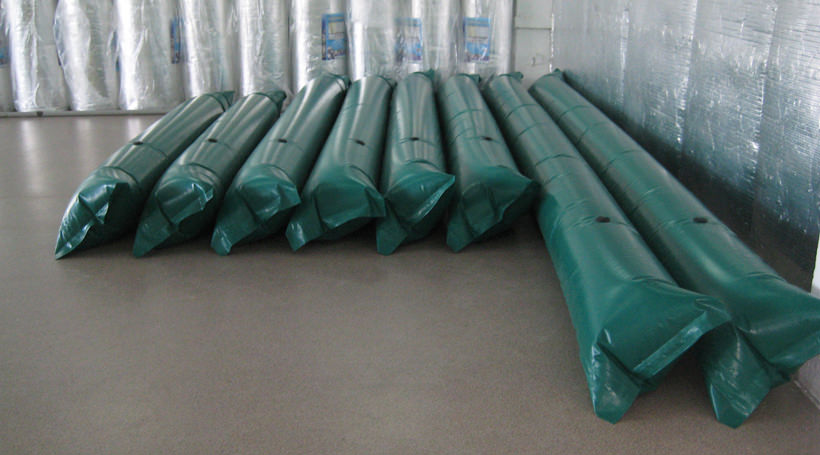 WATER-FILLABLE BARRIER INSTALLATION SCHEME
The standard dimensions of water-fillable barriers are 10 meters long and 1.5 meters wide when empty. When filled, they rise to a height of approximately 0.7 - 0.8 meters. Before filling the flexible barriers, they are placed around the perimeter of the area or water. Additionally, the barriers are set to overlap each other and pulled together using a special tight joint.
If necessary, to increase the stability of the flexible barrier, they are pulled together by straps, while increasing the overall width of the structure.
The barriers are filled via the valves using a motor pump, fire truck pump, or any other means of pumping the required volume of water into the barrier. The additional drainage valves must be opened during filling to bleed the air entering from the injected water flow.
Drainage valve plugs are replaced once filled, and if necessary, the structure is supported by heel supports (or sandbags) with a one-meter step for stability against wave vibrations.
ORDER AND PURCHASE YOUR FLEXIBLE WATER-FILLABLE BARRIER
Neftetank offers warehouse ready, flexible water-fillable barriers of various sizes and volumes.
Our water-fillable barriers come carefully packaged and with a complete set of technical documentation.
We manufacture products that can speed up the work associated with the construction of temporary protective structures as well as significantly saving valuable resources.
START SAVING RESOURCES NOW BY USING CONVENIENT
WATER-FILLABLE BARRIERS!
Call
8-800-500-54-48
to inquire about your unique needs, and our experts will provide comprehensive information
about methods of using our flexible liquid barriers during emergencies, costs,
and delivery dates.