Tanks for osr
SPILL OIL (OSR)
Neftetank GC specialists developed and put into production flexible tank series MR-HT and defense booms (slick bars), intended for the prevention of oil spillage in case of accidents and disasters, oil containment and recovery (OSR) on land
and on water.
This series of flexible tanks underwent testing and have proven perfect during emergency operations, planned and other technical activities at processing, storage and oil pipeline repair sites.
Production capacity and the unique technological equipment allow Neftetank GC to produce floating tanks for oil spillage
and oil (OSR) of various sizes according to the customer's request.
All produced models of floating tanks used on water are equipped with air taps to drain and fill increase their efficiency in collecting oil.
If necessary, the package may include additional drain and filler equipment and connecting fittings.
The number of air pipes and taps for filling and draining the fluid may vary depending on customer's specifications.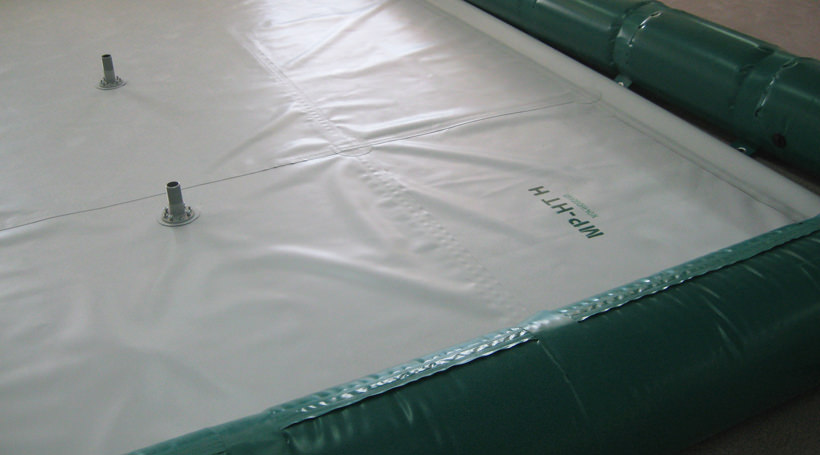 KEY BENEFITS OF MR-HT OSR TANKS
All technical characteristics offered by flexible tanks and results are confirmed by numerous tests and positive reports
of our clients.
Excellent practical results in the collection of spilled oil on water using floating tanks;
Small transport weight and small dimensions in folded position;
Chance of deployment and storage of flexible tanks for OSR on unprepared sites;
Durability during operation;
Little labour cost during deployment and folding up;
Ample opportunities during transportation of flexible tanks for OSR to accident spots by light vehicles and medium-duty helicopters;
High resistance to chemical, climatic, corrosive effect;
High seismic safety;
Harmlessness of used materials to oil products and hazardous chemicals.
Neftetank Group of Companies is the owner of «Frost tank»
and «Flexible tanks for water and oil products» patents
IT IS ALSO WORTH NOTING THAT SEVERAL CHARACTERISTICS DISTINGUISH OUR OSR TANKS FROM THOSE OF OUR COMPETITORS.
The excellent quality high strength of Neftetank GC flexible tanks guarantee their durability;
Unique technological equipment, highly qualified staff, a huge experience in manufacturing MR-HT tanks for the harsh climatic conditions is the guarantee for high-quality products of our company;
Split-second production of OSR on individual specifications and orders.
Order and buy OSR FLEXIBLE TANKS NOW!
Neftetank Group of Companies offers warehouse-ready flexible tanks for oil spillage booms and a barrage of different sizes
and volumes.
In the absence of the required position in the shortest possible time shall execute your order and deliver the products
in any quantity.
We manufacture products that save you money in works related to oil spillage. OSR flexible tanks minimize costs and save resources.
The product is completed with a set of complete carefully packaged technical documentation.
START SAVING COSTS BY USING FLEXIBLE OSR TANKS CONVENIENT TO OPERATE
AND BARRAGE BOOMS OF VARIOUS SIZES AND VOLUMES!
Call
8-800-500-54-48
and our experts will provide all the very comprehensive information
on your enquiry for booms and flexible tank application methods during emergency oil spillage, costs and delivery dates.