Field Fuel Depots
FUEL AND LUBRICANT DEPOTS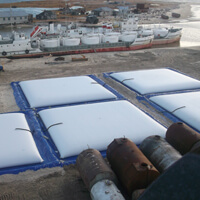 Developing infrastructure has unique requirements, and fuel reserves are often needed for the smooth and ongoing operation of the equipment in use. Flexible tanks are new generation tanks created to save energy, time, and material resources. Due to their lightweight, easy mobility, and exceptional operational performance, they are better suited than standard tanks for establishing a field fuel and lubricant storage facility.
Prices for fuel and lubricant depots start at 100,000 rubles depending on their volume, the total capacity of the depot, any additional equipment, delivery, installation services, and an on-going service package for future maintenance if requested.
SCOPE OF USE
Flexible tanks are sealed reservoirs that resemble large pillows. The manufacture of flexible tanks is performed using a unique polymer material, modern production technologies, and modern high-precision automated equipment. Their high-quality finish allows for the use of flexible reservoirs in harsh climates, and capable of operating within temperatures ranging from -60°C to +85°C.
Combining flexible tanks of different volumes, you can create fuel and lubricant warehouses with the required capacity. This is especially useful when you need a rapid and efficient storage solution since flexible fuel tanks are lightweight, compact, and quickly mobilized for fast installation without any preparatory foundation work. The Installation of a flexible fuel tank with a volume of 250 m3 can be completed in just 10 minutes, whether in swampy, sandy terrain, in a taiga (boreal forest), or even seismically active areas. Further, a fuel depot takes no more than one 8-hour shift with a team of six people to set up and become operational.
WHAT IS A FIELD FUEL DEPOT?
FFD is Field Fuel depot or Mobile Petroleum Storage Depot. The main components of such mobile fuel depots are flexible tanks – pillow-shaped fuel reservoirs made from polymer materials. Manufactured using Neftetanks Patented technology of "Double Sheared Seam," and a material developed by German company Mehler Texnologies guarantee bond strengths of 100% strength of the original material.
The characteristics of this polymer make it possible to use these tanks in the most severe climatic conditions and ambient temperatures as low as 60°С.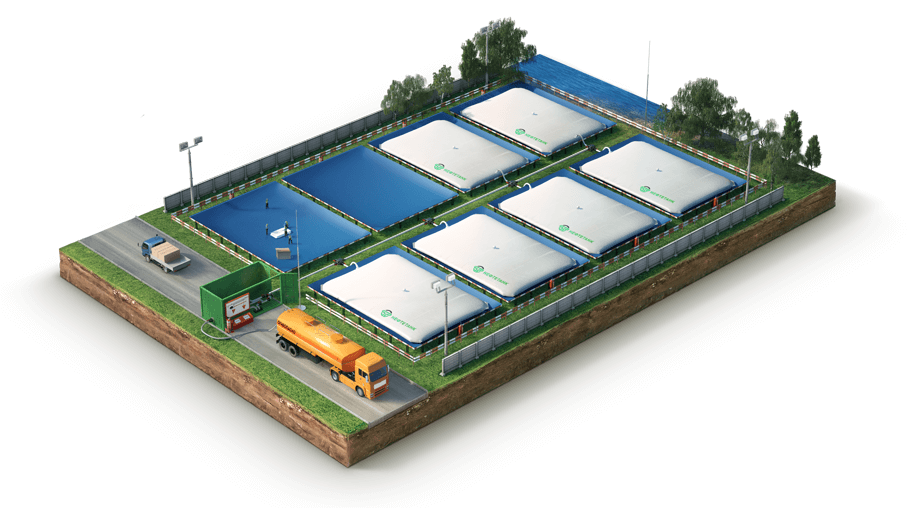 Flexible tanks are produced in capacities ranging from 0.025 to 500 m³ permitting them to be deployed in various volumes of up to a thousand cubic meters for fuel products within a depot.
ORGANIZATION OF FIELD FUEL DEPOTS
The organization of a field depot of fuels and lubricants begins with determining the capacity of the required fuel supply. The larger the size, the easier and faster the depot necessary will be ready.
Submit tank orders based on the required capacity. Rapid production of flexible tanks allows you to receive an order within three days, which in some instances, is a crucial factor.
Delivery of the flexible tanks to the required location can be carried out by various vehicles due to their lightweight and compact dimensions. For example, a flexible fuel tank with a volume of 250 m3 has a mass of approximately 550 kg, allowing it to be transported even by a passenger car.
Direct installation of a field fuel depot is possible without time-consuming preparatory work or a pre-laid foundation.
Of course, the site must be cleared of large sharp objects and stones before being unloaded and deployed. An anti-filtration coversheet placed under the flexible reservoir serves as a protection, and in combination with a metal berm, provides a hermetically sealed perimeter for the tank.
The required functionality of the warehouse is ensured using additional equipment. This may include and is not limited to an internal strapping system with flexible or steel pipelines for receiving and dispensing fuel, pumping units with filtration, and metering systems for pumped oil products.
When relocating the fuel or lubricant depot, flexible fuel tanks are emptied, folded, and loaded into vehicles to move them to the new location. After the removal of the depot, land reclamation is not necessary, which is a significant advantage, as it reduces costs and does not harm the environment.
Neftetank holds the patents for "Anti-Frost Tank" and "Tank Heating System."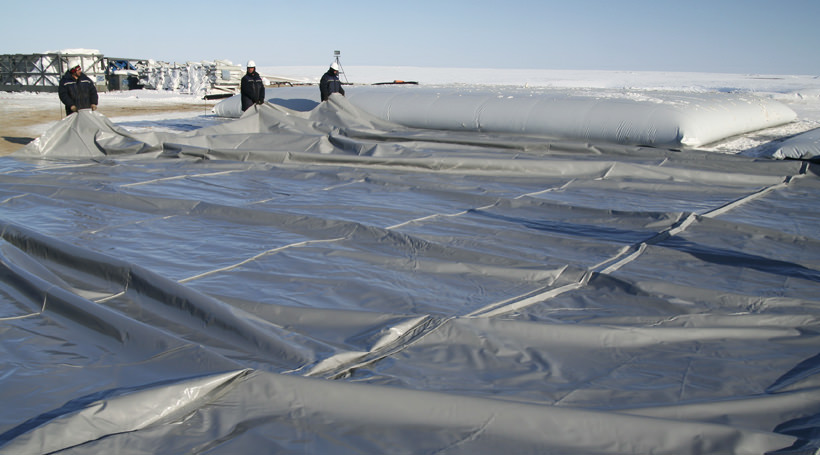 FIELD FUEL DEPOT PACKAGE INCLUSIONS:
Fuel Tanks — flexible tanks for oil and petroleum products;
Protective impervious groundsheets and berms;
Prefabricated pipes and pressure hoses;
Ball valves and cam-lock-like fittings for quick connection;
Oil pumping module, which includes self-priming pumps, dispensers, and calculating gauges;
Extinguishers and alarm systems;
Active lightning protection and grounding system;
Warehouse lighting;
Any additional accessory-equipment the customer may need.
All the listed items include complete technical documentation and come carefully packaged.
Fabricated for repeated use, Flexible tanks are easy to fold and move to the next work site, and unlike metal tanks, reclamation of the land after moving the tank/depot is not required.
BENEFITS OF FIELD DEPOTS WITH FLEXIBLE TANKS
The weight of a Flexible Fuel tank with a volume of 250 m³ is just over 500 kg, excluding valves. A fuel or lubricant depot, consisting of several packaged reservoirs, can be transported by a pickup utility vehicle or even flown to site by a medium-capacity helicopter.
Fuel and lubricants field depots created with Flexible Fuel tanks are:
lightweight and compact when folded;
rapid production of tanks allows for the fast deployment of fuel depots;
simple, quick installation, and dismantling;
easily transportable;
installation on any surface without site works like pouring a foundation or using specialized equipment;
resistance to both chemical and climatic influences, anticorrosion properties, seismic resistant;
Operating conditions over a wide temperature range from -60°C to +85°C
reusable and easy maintenance;
no post ground remediation work required;
environmentally friendly;
Highly reliable, safe and practical
Such fuel and lubricant depots are highly effective 21st-century operational solutions, providing efficient, reliable storage and quick delivery of fuel and lubricants to remote areas with minimal time and material costs.
QUALITY ASSURANCE
Flexible Fuel Depots produced by Neftetank are intended for receiving, storing, and subsequent delivery of fuel and lubricants, as well as for the storage of crude oil in the field and remote areas.
Flexible Fuel tanks manufactured by Neftetank are certified according to the Fire and Environmental Safety System and according to the mandatory certification system GOST-R.
PLACE YOUR ORDER FOR A FIELD FUEL DEPOT
Particularly profitable for the deployment of mobile depots in areas with fluctuating temperatures and seismically active regions, compared to mounting metal tanks (PBC) and installing a cistern requiring extensive foundation works, Flexible fuel tanks can be deployed directly on the existing ground without any preparatory foundation works.
LEARN MORE ABOUT THE DEPLOYMENT
OF FIELD FUEL DEPOTS RIGHT NOW!
Call
8-800-500-54-48
to organize a Flexible Fuel Depot unique to your needs.
We will explain in detail how to use flexible fuel tanks to maximize profits, as well as more precise information necessary for business operations.