Field fuel depots
fuel depots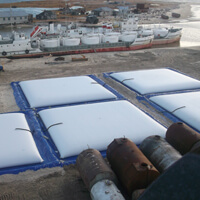 Any field work under poor infrastructural conditions requires reserve
fuel and lubricants.
In this case, the most effective are fuel storages in the form of Fuel Tanks – Flexible fuel reservoirs, rapidly deployable in remote areas during geological survey, construction, exploration or early development of deposits.
WHAT IS A FIELD FUEL DEPOT?
FFD is Field fuel depot or mobile petroleum storage depot. The main component of such mobile fuel depots are flexible
tanks – pillow-shaped fuel reservoirs made from polymeric materials. Neftetank Group of Companies Patented technology
of double seam «shear», and material developed by German company Mehler Texnologies guarantee bond strength at 100% strength of the original material.
The characteristics of this material make it possible to use the soft tanks in the most severe climatic conditions and in ambient temperatures as low as 60 °С.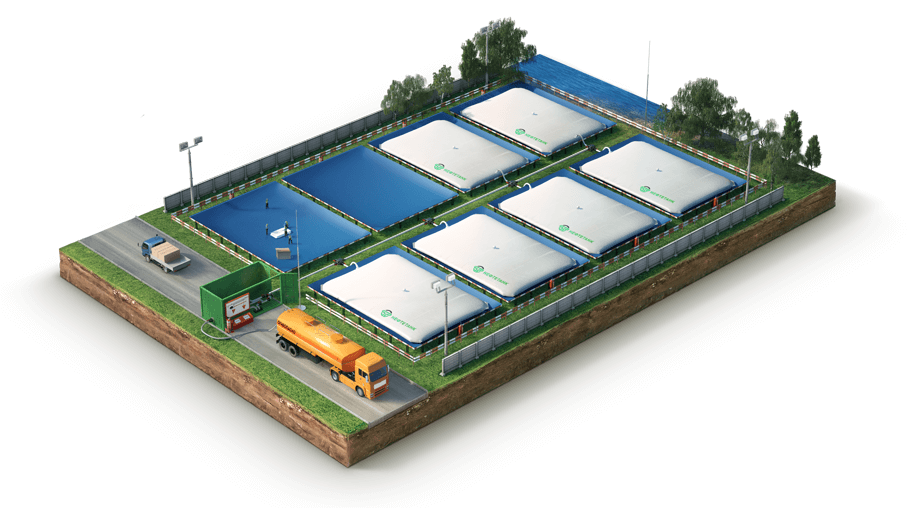 Flexible tanks are produced in sizes ranging from 0.025 to 500 m³. Thus, rendering it possible for the Group to deploy flexible tanks in various volumes up to thousand cubic meters of fuel products at the depot.
SCOPE OF USE OF FIELD FUEL DEPOTS
Providing equipment through fuel and lubricants in the field is one of the main tasks of logistics in the organization of work
at the initial stage of any new facilities in off-road conditions and lack of infrastructure.
In this case, the use of steel tanks entails significant costs. A steel tank of 200 m³ has a weight of 13 tons. To install one vertical steel tank PBC is required for additional earthworks, site preparation, construction of the foundation to bear the weight
of the filled tank. Steel containers include also capacitance up to 50 m³ which do not require the listed operations.
The weight of a 250 m³ volume flexible tank is just 500 kg. Field fuel depot, consisting of several packaged flexible tanks can be loaded into a «Gazelle» truck or medium-lift helicopter.
High mobility, low transportation costs, speed of deployment, no costly site preparation works make flexible tanks indispensable in harsh climatic conditions of the Far North, marshland, off-road regions, taiga, seismically active
areas and sandy deserts.
ORGANIZATION OF FIELD FUEL DEPOTS
For organization FFD ready for receiving fuel in flexible tanks in remote drilling or other construction sites, a team of 6 people will need not more than one working day of 8 hours. Laying one flexible tank takes less than 15 minutes.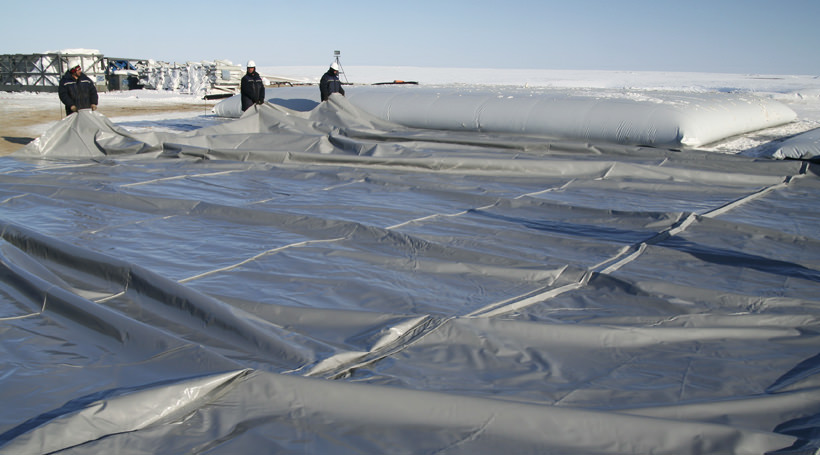 IN A SET OF FIELD WAREHOUSE SUPPLY FEATURES THE FOLLOWING:
Fuel Tanks — flexible tanks for oil and petroleum products;
Protective impervious canopies and berms;
Prefabricated pipes and pressure hoses;
Ball valves and cam-lock-like fittings for quick connection;
Oil pumping module (NPM), which includes self-priming pumps, dispensers and calculating gauges;
Extinguishers and alarm systems;
System for active lightning protection and grounding;
Warehouse lighting;
Any additional accessory-equipment the customer may need.
All the listed items are contained in a set of complete technical documentation and carefully packaged.
Flexible tanks are intended for repeated use. They are easy to fold and move to the next work environment. Reclamation
of the land after folding the tanks is not required, unlike in the case of metal tanks.
BENEFITS OF FIELD DEPOTS WITH FLEXIBLE TANKS
Easy to transport and unique mobility;
Record-low time of installation and removal;
Cost-efficient site preparation, foundation and use of heavy specialized equipment;
Deployment versatility on any ground: snow, sand, rough stony ground and woodland;
Operating conditions over a wide temperature range from -60 °C to +85 °C;
Multiple use of equipment and flexible tanks at deployment and retrieval of the warehouse;
Lack of land reclamation after dismantling;
Ecological purity of the materials used;
Unbeatable reliability and durability of flexible tanks;
High corrosion substances resistant to chemical and climatic impacts.
QUALITY ASSURANCE
FFD produced by Neftetank GC are intended for receipt, storage and delivery of fuel and lubricants, as well as for storage
of crude oil in the field and in remote areas.
Flexible tanks produced by Neftetank GC certified against fire and environmental safety guaranteed in consonance
with the mandatory GOST – R certification system.
PLACE YOUR ORDER FOR A FIELD FUEL DEPOT
Particularly profitable for the organization of mobile depots in areas with fluctuating temperatures and seismically active regions, when mounting metal tanks (PBC) and cistern is necessary to build the foundation. Flexible tanks can be deployed
on the ground without foundation.
LEARN MORE ABOUT THE ORGANIZATION
OF FIELD FUEL DEPOTS RIGHT NOW!
Call
8-800-500-54-48
and we will help you organize FFD completely satisfying your needs.
We will tell you in detail how to use flexible tanks maximizing profit, as well as more precise information necessary for making business offers.