Tanks for transformer oil
During scheduled and emergency repairs on power transformer substations, storage is needed for the disposal and storage of transformer oil. Flexible tanks produced from exclusive polymeric materials excel for this purpose.
Manufactured using a patented polymeric material, flexible reservoirs for transformer oils feature great strength and resistance to chemical and climatic effects. Reservoirs ranging from 0,025 m³ to 500 m³ can be produced.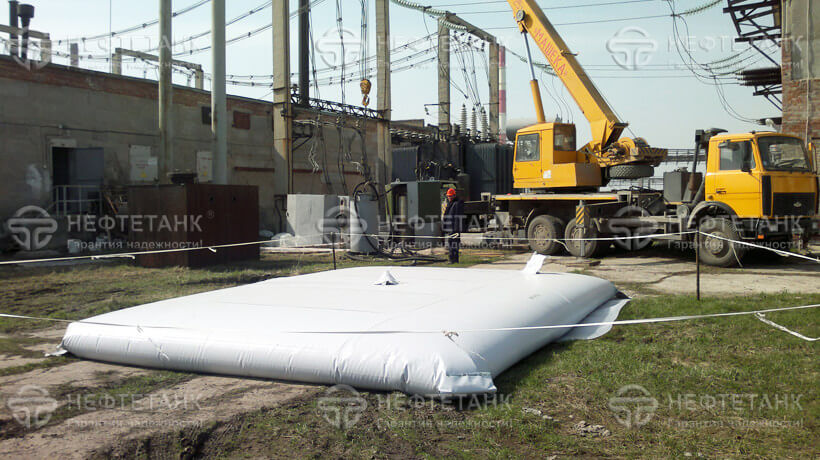 The recommended application use of these flexible reservoirs is for the long-term storage of fuels and lubricants, even while hot. Discharged transformer oils at temperatures up to +85 °C. are more easily transferred directly into the flexible reservoirs.
The use of flexible tanks significantly minimizes costs compared to conventional reservoirs.
WHAT ARE THE ADVANTAGES OF A FLEXIBLE TANK?
Whether temporary or permanent, flexible polymeric storage reservoirs significantly reduce road transportation costs compared to metal containers and horizontal tank storage systems.
The weight of a flexible reservoir for the temporary storage of transformer oil is vastly less than that of a steel one. For example, when folded, a flexible polymeric reservoir of 25 m³ weighs less than 100 kg.
A compact collapsed reservoir is easy to transport in any vehicle and deliver even by one person with a trolley.
PACKAGING
Neftetank and its subsidiaries produce a wide range of flexible storage tanks for transformer oil from the very small and compact volume of 0.25 m³ to as large as 250 m³. Our equipment, however, enables us to produce flexible containers of any size according to our client's specifications.
Standard fittings include one outlet for draining and filling of oil. However, our production technology allows us to add further valves and fittings in multiple sizes on request if the need arises.
Our most popular model reservoirs with capacities of 1 m³ to 50 m³ are constantly in stock and deliverable at the shortest possible notice.
To avoid any oil spillage escaping into the environment, and protect the reservoir from external damaging factors, the package includes an impervious canopy.
Additionally, the package may include the following:
Pumps;
Sleeves;
Gauge and control sets;
Fittings for quick connection.
For comfortable transportation, special packaging bags can be included for small tanks, designed to be carried by one person.
The product comes complete with a set of carefully packaged technical documentation.
THE MAIN BENEFITS
A brief analysis and survey of our flexible reservoir's inherent technical characteristics for transformer oil enable us to formulate the main advantages of their application:
Minimal transportation costs;
Alternative transportation methods when roads are not an option;
Simple and rapid deployment of the tank for oil drainage. Approximate time - 3 to 5 minutes;
No special preparatory work and site organization is required;
Use of special equipment is not required;
Minimum labor costs for tank deployment and retrieval;
Reusability and virtually unlimited service life;
Small sizes and transport weight in the folded position. Weight of a 50 m³ capacity tank when folded is less than 140 kg.
START ECONOMISING YOUR RESOURCES WHEN REPAIRING
POWER TRANSFORMER SUBSTATIONS NOW!
Call
8-800-500-54-48
and request our managers to provide you with comprehensive information about the methods of use for our products, cost, and delivery date!