Linings in metal reservoirs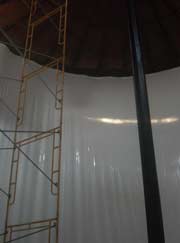 Use of flexible reservoirs (linings) for renovation and repair of worn metal and concrete tanks carries a great economic benefit.
This innovative method of reconstruction, developed by the Neftetank Group of Companies does not require the removal of the old tank, site preparation and foundation to install new recycling tank and dismantled long costly process for the construction or installation
of new capacities.
WHAT IS SOFT LINING FOR REPAIR WORKS
This elastic flexible tank made of synthetic multilayer durable material size reconstructed. The material properties of the tank do not allow him to chemically react with the liquid fills it, which makes using it long term.
Use of such tanks can liners in different climatic conditions, as the material does not change
its properties at temperatures ranging from -60 ºC to +85 ºC. Strength and integrity
of their guaranteed special manufacturing techniques.
LAYING FOLDED LININGS
AT THE BOTTOM OF TANK
In a pre-existing tank with a crane placed folded roll liner.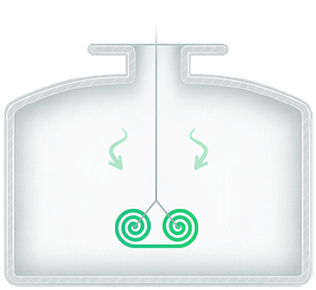 DEPLOYMENT
OF THE LININGS
The shell liner is set on the tank bottom.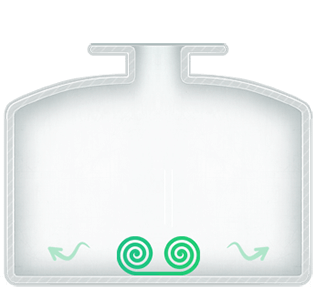 FIXING THE LININGS
AT THE BOTTOM
OF THE TANK
The shell is fixed around the perimeter of the tank bottom
and on the technological details of the tank bottom.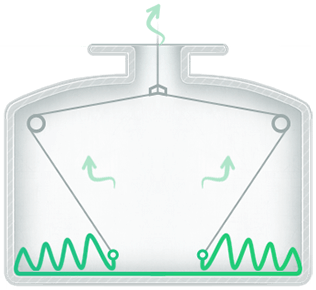 FIXING THE LININGS ON THE WALLS OF THE RESERVOIR
With temporarily installed along the perimeter of the roof of the tank lifting blocks and winches side shell fabric liner climbs the walls
and fixed on the perimeter of the roof and walls of the tank
on the details.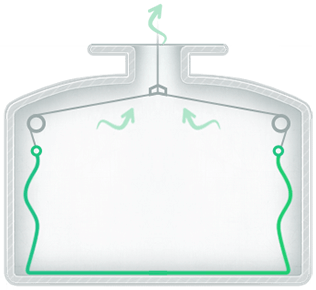 ADVANTAGES OF SOFT
LININGS DURING RESERVOIRS REPAIRS
Using soft liners for repair and renovation of old tanks are undeniable.
Lack of time and financial costs of dismantling old metal tanks and their utilization
The ability to repair both metal and concrete tanks
Minimal time and effort when installing soft liner
Save liner delivery to the site of reconstruction thanks to its small size and weight
Does not require replacement of worn metal sheets and, consequently, there is no need to carry out much hot work
Service guarantee is not less than 10 years and easy to replace the liner after the expiration of the service. During the period of service is not affected
by the fungus, rot and does not affect the quality
of the filling capacity of the product
QUALITY ASSURANCE
Neftetank GC quality product is evidenced by certificates of quality. Technology used in the production of unique and patented. There PAGE Certificate for its products. Operational reliability is confirmed in practice.
The product is completed with a set of complete carefully packaged technical documentation.
START SAVING RESOURCES NOW BY REPAIRING AND RECONSTRUCTION
OF OLD-FASHIONED METAL AND CONCRETE TANKS!
Call
8-800-500-54-48
, and we shall help you choose the appropriate lining or take your order
to produce a flexible tank (lining) most convenient for you. Check price and delivery date.