Linings in Metal Reservoirs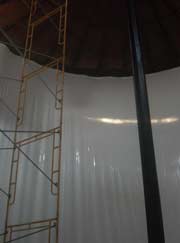 The use of flexible reservoirs (linings) for the renovation and repair of worn metal and concrete tanks offer great economic benefits.
This innovative method of renovation, developed by Neftetank and its subsidiaries, does not require dismantling the old tank, preparing the site and foundation for installing a new one, disposing of the dismantled tank, and the lengthy, expensive process
of building or installing new tanks.
Vertical steel tanks (also called RVS tanks) and horizontal steel tanks (RGS tanks) are used to store oil and oil-based products. Over time, these tanks can lose their performance capabilities due to corrosion or metal "fatigue." In this case, tanks are usually dismantled (in case they are small) or repaired at the operational site. Until recently, there were several ways to repair tanks.
In 2011, Neftetank invented and patented a new method that allows the restoration of vertical and horizontal tanks for oil products in the shortest possible time and at the lowest cost. Patent No. 116842 of July 28, 2011, testifies to the development of the POLYMERIC SOFT DEPOSIT IN THE TANK technology.
Prices for polymer repair liners for metal tanks start at 20,000 rubles and depends on the volume of the tank, its purpose, the list of additional equipment, delivery, and installation services.
WHAT IS THE SOFT LINING FOR REPAIR WORKS?
This elastic flexible tank made of synthetic multilayer durable material size reconstructed. The material properties of the tank do not allow him to chemically react with the liquid fills it, which makes using it long term.
A soft lining is a soft elastic tank made of synthetic multilayer durable material according to the size of the reconstructed tank. The properties of the tank material used for repair are inert to the liquid stored within it, making it long-lasting.
Vertical cylindrical tanks for petroleum products, depending on their volume and structure, can be diagnosed for malfunction using various methods. A tank diagnostic is an initial step to determine any malfunction. Based on the diagnostic results, a decision is made to place a polymer liner of one or another volume, depending on the design features of the tank. As a rule, vertical tanks are subject to repair, although often steel horizontal tanks for petroleum products also need to be repaired, and an insert of a different design is produced for them. The cost of the tank is not comparable with the cost of a polymer liner, so this method of repairing tanks has become widespread.
What is a soft polymer liner? It is a new flexible polymer tank placed inside an existing metal tank. The manufacture of tanks and the production of reservoirs, as well as polymer liners for storing oil and oil products, comes only from an exclusive polymer material manufactured by Low & Bonar, a permanent partner of Neftetank for ten years.
Tank liners can be used in different climatic conditions, as the material does not change its properties within temperatures ranging from -60 ºC to +85 ºC. Strength and integrity are guaranteed using special manufacturing techniques.
PLACING THE FOLDED LINING
AT THE BOTTOM OF TANK
A crane will place the folded liner into the pre-prepared cylindrical steel tank.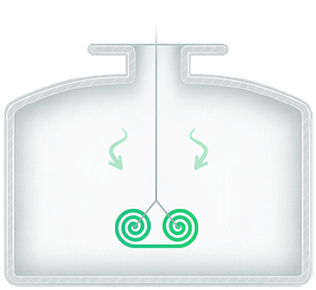 LINER
DEPLOYMENT
Once placed within the bottom of the existing tank, the liner shell is unfolded.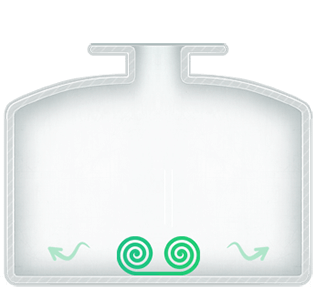 FIXING THE LINING
TO THE BOTTOM
OF THE TANK
The shell lining is fixed around the perimeter of the tank bottom
and to the tank's structural elements.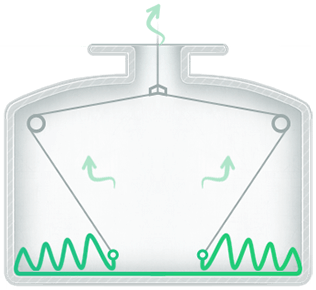 FIXING THE LINING TO THE WALLS OF THE RESERVOIR
With the help of load-lifting blocks and a winch temporarily installed around the perimeter of the tank roof, the side sheet of the liner shell is raised and fixed to the structural elements of the tank walls and along the roof perimeter.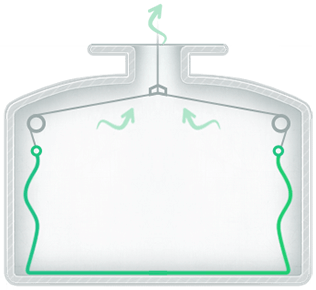 ADVANTAGES OF SOFT
LININGS FOR RESERVOIRS REPAIRS
The advantages of using soft liners for the repair and renovation of old tanks are undeniable.
Saving time and finances compared to the costs of dismantling old metal tanks and their utilization
The ability to repair both metal and concrete tanks
Minimal time and labor when installing a soft liner
Transportation savings to the installation site thanks to their small size and weight
Soft liners do not require the replacement of worn metal sheets and, consequently, there is little need to carry out much hot work
Service guarantee of no less than ten years and easy replacement of the liner after the expiration of the service life
During their service life, soft liners are not affected by fungus or rot and will not affect the quality of the substance stored within them.
METAL TANKS
Storage of oil and oil-based products often involves the use of special tanks. Most often, such tanks are metallic, which stops the liquid from being influenced by various kinds of chemical reactions and mechanical factors.
THE MAIN TYPES OF METAL TANKS
All tanks are classified according to several factors:
First, it is necessary to consider the type of fuel or liquid used, allowing tanks to be divided into:

metal or steel tanks for the storage of fuels and lubricants
steel vertical tanks for diesel fuel
vertical steel cylindrical tanks for oil fuel
metal steel water tanks

Secondly, metal tanks can be divided by shape or design:

vertical storage tanks for petroleum products *the production of vertical tanks (RVS-vertical steel tank) generally satisfies the needs of oil refineries and companies, one way or another, connected with fuels and lubricants, oil
horizontal reservoirs (RGS - horizontal steel tank)
double-walled, etc

Thirdly, these products can be divided according to the volume offered (for example, the production of RC tanks can offer volumes from 2,500 liters to several thousand tons). The most commonly used tank sizes are 25 m³ tanks, 50 m³ tanks, 100 m³ tanks, 200 m³ tanks, 500 m³ tanks, 1000 m³ tank, 5000 m³ tanks, 10,000 m³ tanks. A large reservoir is also often used, the volume of which exceeds 10,000 m³.

Fourth, the division according to the type of installation:

underground installation
ground installation

You can also classify metal tanks according to their scope of use so that you can distinguish:

fire metal tanks
metal tanks for petroleum products
metal tanks for diesel fuel
metal gas tanks
Additionally, metal tanks, like some other types of similar products, can be double-walled, leading to the creation of additional protection against leakage and other negative factors.
Double-walled metal containers consist of two sealed vessels, one located inside the other. Therefore, the waterproofing of a tank with a double-walled structure is assumed.
QUALITY ASSURANCE
Evidence of Neftetank and its subsidiaries' superior product is demonstrated by quality certification. Our production technology is unique and patented, and there is a CTP Certificate for manufactured products. Operational reliability is checked by practical testing.
All delivered products come complete with a set of carefully packaged technical documentation.
START SAVING RIGHT NOW WHEN CARRYING OUT REPAIRS AND RECONDITIONING
OF OLD METAL AND CONCRETE TANKS!
Call
8-800-500-54-48
, and we will help you choose the appropriate lining or take your order to produce a flexible tank (lining) specifically for your needs, along with the price and delivery date.