PRODUCTION TECHNOLOGY
Tank Production
The production and manufacturing of our tanks are carried out by Neftetank and its subsidiaries using exclusive material from Low & Bonar, the largest European company that produces polymer materials. A distinctive feature of this material is that it is equally resistant to both water and oil products, which ranks it favorably with other manufacturers' products.
USE OF FLEXIBLE TANKS
Our maximum volume of a flexible tank thus far is 500m ³. It is an unbroken record within the Russian market.
The maximum
volume is
500m ³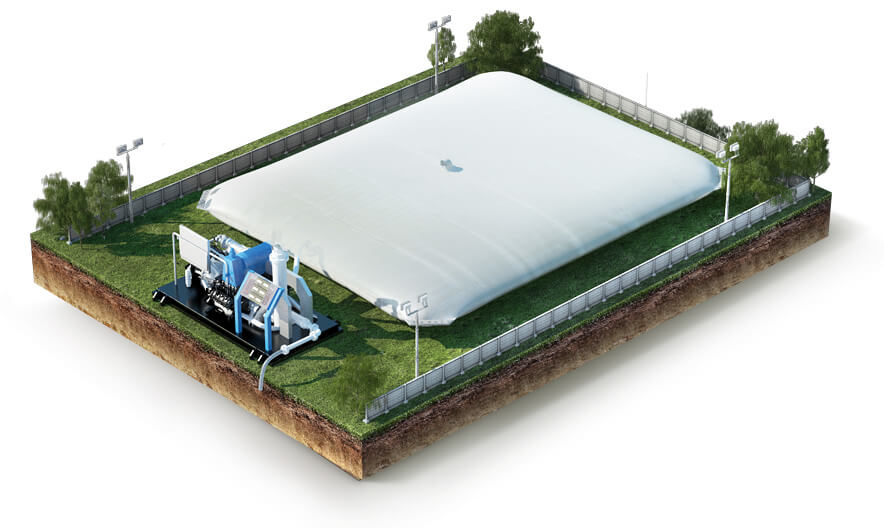 HIGHLY QUALIFIED SPECIALISTS
Neftetank's production facility is located near Solnechnogorsk, a city with rich cultural traditions and scientifically oriented.
The plant's workers consist of highly skilled personnel with higher technical education and extensive working experience.
Each employee undergoes a unique training course to obtain a certificate certifying their ability to complete certain types of work. The production of tanks and reservoirs is carried out by automated equipment under their constant supervision.
WELDING EQUIPMENT
All tank welding works are carried out using Swiss equipment. Depending on the purpose of the tanks and manufacturing technology, we use a whole range of welding equipment.
For necessary work, a unique apparatus that combines the operation of a hot wedge and hot air is employed, when in a fully automatic mode, it regulates both pressure, temperature, and welding speed. For small tanks, we use other machines, while larger reservoirs also involve ultrasonic welding and other methods during auxiliary works.
MODERN HIGH-PRECISION PRODUCTION LINES
Numerous machines allow us to continually produce tanks, significantly reducing lead times and offering the fastest possible delivery to our clients. All equipment undergoes regular technical diagnostics and maintenance by specialized authorized centers of their respective manufacturers. Therefore, our flexible tank production facility is rightly proud of both its advanced manufacturing technologies and high-precision equipment.
Our facility fabricates standard size and capacity tanks; however, we also offer custom made-to-order tanks. Below are typical tank sizes:
Reservoir 1 m³
Reservoir 3 m³
Reservoir 5 m³
Reservoir 10 m³
Reservoir 20 m³
Reservoir 25 m³
Reservoir 30 m³
Reservoir 40 m³
Reservoir 50 m³
Reservoir 75 m³
Reservoir 100 m³
Reservoir 200 m³
Reservoir 250 m³
Reservoir 500 m³
Although the production of reservoirs is a priority for us, our company also offers the following services:
Reservoir repair
Reservoir installation
Reservoir cleaning
Reservoir installation
Reservoir testing
Reservoir building
Reservoir maintenance
Reservoir inspection
Reservoir cleaning of oil products
TANK LINERS AND REPAIRS
The use of flexible liners to repair or renovate existing old fixed tanks are also offered by us and offer significant advantages.
Old metal or reinforced concrete tanks often need to be updated or repaired. Our specialists have developed a unique technology that allows for their repair, no matter the complexity in a matter of hours.
Regardless of the tank type (metal or reinforced concrete), the inside of the tank is lined with a unique polymer shell that is resistant to both oil and oil-based products, as well as to water and fertilizers. Our specialists will carry out any dismantling or modifications of the existing tank to allow for the installation of the liner; however, this is not generally required. The flexible polymer liner is mounted directly on-site within the pre-existing tank, and no further work is needed.
Of course, preliminary diagnostics of the tank are carried out, and after completion of the approved work, recommendations are provided concerning the operation of the container with the new polymer liner inside.
| | |
| --- | --- |
| | To expand our range of products and further develop our methods of production, we are always happy to meet the unique needs of our customers. |
ISO 9001 Certification
In 2011, Neftetank staff underwent training and certification per the ISO 9001 international certification system, demonstrating their desire to comply with international standards of quality of service, efficient process management, and product safety.
Again in 2018, our company underwent further certification, subsequently receiving another three ISO certificates. These certificates indicate that the production and manufacturing of our tanks are carried out by certified specialists according to these international standards.
INDUSTRIAL INSTALLATION
Neftetank's production facility utilizes modern high-precision equipment, and strict quality control occurs at each stage of production. However, Neftetank's duty of care does not end with merely checking the quality of the finished product; rather, it continues until installation at our customer's project site.
Therefore, we offer a complete "turnkey" service, from the production of tanks to their delivery on-site, installation, operational assistance, which includes periodic diagnostics, maintenance, and repair if required. Additionally, we can dismantle and uninstall the tank for relocation if desired.
We produce tanks for oil and oil-based products only from exclusive German-made material. Also, Neftetank's technical proficiency enables us to quickly distribute the production of our client's customized, flexible reservoirs among our product lines and meet all required technical specifications.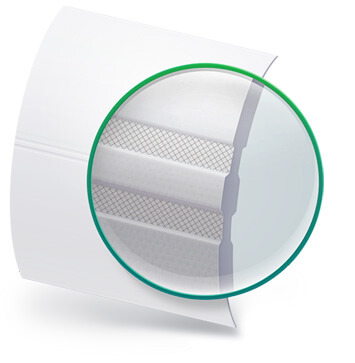 Thus, from the very first purchase from our company, you can be absolutely sure of the quality which guarantees confident long-term and repeated use.
EXCLUSIVE POLYMER MATERIAL
Our flexible reservoirs are produced from Enviro Pro, a German-made polymer and product of "MEHLER Texnologies" a premium product brand of LOW & BONAR.
With over 60 years of history, they are the world leaders in the production of high-tech polymeric materials and a reliable supplier and longtime partner for Neftetank.
Developed according to Neftetank's specifications, the "Enviro Pro" material is specially designed for use in the harsh Russian climatic conditions.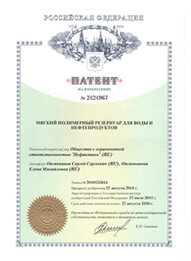 PATENTED TECHNOLOGY
DOUBLE SHEAR SEAM
Although every finished product is tested for strength and impermeability, what makes our flexible reservoirs notably strong is our patented fabrication technology called "double sheared seam" (Patent No. 2424967).
This is what gives meaning to our slogan:
"Neftetank – Durability Guaranteed"